Absolute type multi-turn rotary encoders Série EPM50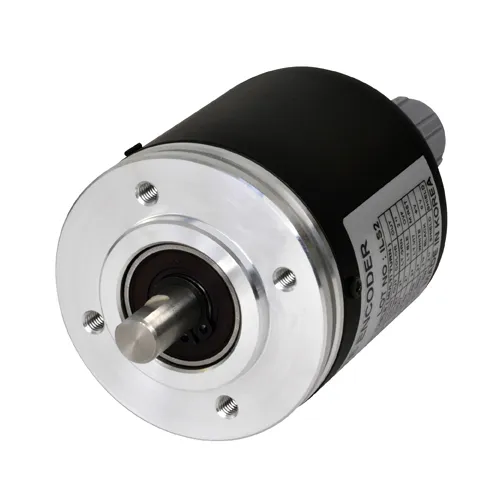 ø50mm shaft type absolute multi-turn rotary encoders EPM50 series makes possible to realize space saving mounting and to implement various user applications by adding side connector type line-ups. Absolute multi-turn encoders EPM50 series provides both absolute position data per revolution and revolution count data with 23 bit high resolution and accuracy. In addition, the series allows more diverse user's choice with parallel and serial (SSI) transmission type outputs. It can be used for control of an industrial robot or high precision motor.
Major features
More diverse installations available with newly added side connector type line-up
Easy zero adjustment using single-turn / multi-turn data separated reset function
Compact size of diameter φ50mm
Parallel data / SSI data transmission type
Total 23bit resolution(8,388,608 divisions) of 10bit single-turn(1024 divisions) and 13bit multi- turn(8192 divisions)
Memorizing revolution data up to ±90?after blackout without memory back up function
Possible CW/CCW direction setting with direction function
Maximizing users convenience with clear, overflow alarm (OVF) function
Protection structure IP64(Partial waterproof, Oil proof)
Provides Latch function(Parallel output model only)
Applications
Rotation and position control of the wind turbine generator.